INFORMATION
1. Description of Ko Lanta island:
KO LANTA consists of two islands Lanta Noi (smaller of the two natural islands where there are no resorts built) and Lanta Yai (around 28km long, 152 km2), which is the most attractive to tourists. Lanta Yai is situated 70 km south from international Krabi airport. It is one of the 52 islands of Krabi province and also part of Lanta Marine National Park. Lanta Yai offers in total 25 km of impressive untouched beaches and in particular west part of the island hides one of the most romantic places in Thailand and whole South-East Asia.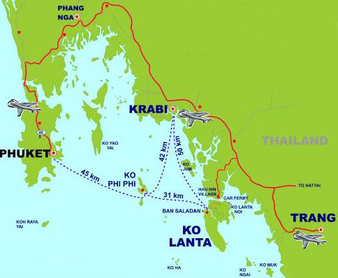 Approximately 10,000 of the regions' 20,000 inhabitants reside on Lanta Yai. There is a very diverse cultural mix well worth preserving. Thai-Muslim, Thai-Chinese and original settlers the Sea Gypsies live on the island in harmony, deriving their income from rubber farming, fishing, palm tree growing, coconut or cashew nut plantations, and the travel industry. Plantations are lined with a lush tropical forest, there are hills of 250 metres.
Not far from Lanta there are coral reefs which provide excellent conditions for scuba diving. In locations such as surrounding islands Ko Rok, Ko Haa, Ko Ma, Hin Bida, Ko Kradan, Ko Phi Phi Lae, Fantasy Rock, Sharks Point and world famous Hin Daeng and Hin Muong you can observe not only amazingly colourful reefs but also dramatic walls, big action of Barracudas crowd, Manta, Whale Shark and the lush tropical underwater gardens. All this makes from Ko Lanta a diver´s paradise.
The Ko Lanta archipelago is comprised of more than 50 small isles within the area. Most of them don't have beaches, or have restricted areas for bird netting business concessions. The rest are magical islands full of stunning natural sights which are protected as part of National Marine Park territory. From the digger islands we should mention at least nearby Ko Phi Phi (40 min. by boat) which has been a world famous tourist attraction but due to its popularity some visitors can find them over-crowded and more expensive than Lanta. Next are Krabi– Ao Nang Bay (80 min. by boat) or Phuket (90 min. by boat), which should not be missed.
While discovering Lanta island easily it is a nice experience to rent a motorcycle or local "tuk tuk" for 4 people. You can visit: local markets in Saladan village, lookout "View Point" in the center hill of island, elephant trekking to the Tiger Cave or waterfall, boat sailing aminy mangrove forest, islands Ko Bu Bu and Ko Tala Beng, fishing village with local Sea Gypsies, calm town and fishing markets in Lanta Old Town and southern trip Ta Noad Cape with national park Mu Koh Lanta and light house with stunning view. You can watch romantic sunsets and Ko Phi Phi islands from whole western coast.
Ko Lanta is easy and inexpensive to reach from Phuket (3 hours by taxi, 2 hours by public boat), Krabi (90 min by taxi) is most convenient gateway to Ko Lanta if coming from Bangkok. The island is serviced by passenger ferries from both Krabi & Phi Phi and car ferries from the mainland. Trang also serves as a regional transit point for those coming in from the south. Please, bear in mind that if your arrival time is late in the day, the local minibus or public passenger ferries scheduled for Ko Lanta may not always be available. Ko Lanta Yai and Ko Lanta Noi are reachable by ferry (2x 15 min.).
Rugged island covered with lush tropical vegetation has great number of beaches washed by Andaman Sea. You will be welcomed with a friendly smile of local people, whole year warm climate (air 30C, water 27C, rainy season from September – October). There are excellent fish restaurants in Lanta (Lanta Sea Food in Saladan, Cook Kai, Same Same but Diferent, Laanlay, View Talay, Orchid, Tavern, Cat Fish…) and many brach bars (Mong, Where Else, Nature Beach Bar, I Bar, The Frog, Feeling Bar, FMCK, Orchid, Mook Anda…). The infrastucture is good, Saladan city has police station, hospitál, international swedish school with English language, shops, port with connections to Phi Phi-Krabi-Phuket and unique Malaysian island Langkawi).
For aktive holiday makers we recommend to visit Krabi: there is a golf pitch Pakasai (cca 70 min. drive, fee around 1.000 THB/18 hole), natural thermal lakes Hot Spring and Emerald Pool by Klong Tom, statue of Buddha situated at the 500m high top Wat Am Suea by Krabi (climb of 1.272 stairs), steep rocky hilus Ao Nang and Railay Bay with Phra Nang Cave, river boat atmysterious Krabi River, breath-taking Khao Sok national park. There are also interesting day trips to surrounding islands Ko Phi Phi and Bamboo Island, Ko Kradan, Ko Ngai with simple bamboo huts, Amazony snorkeling at Ko Rok and Ko Ma, Ko Muk with lovely lagoon Sra Morakot, green hilly Ko Jum island. Adventure lovers should not forget to visit almost uninhabitad south islands Ko Libong, Ko Bulon, Ko Lipe and Ko Tarutao in Pethra national park. Discover these best kept secrets of Andaman sea which nowadays still resist the dread mass tourism.
2. Acommodation Ko Lanta (renting of a luxurious Villa Lanta in "NUI BAY VILLA´S complex"):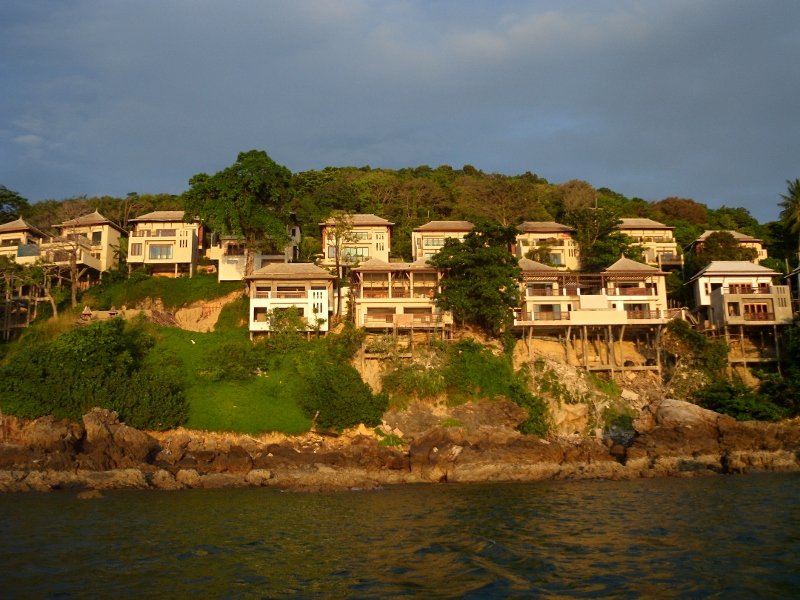 We offer you an acommodation in a new stylish and fully equipped villa Lanta (final building approval in February 2010) which is part of complex of 12 villas. Villa is situated on the Nui Bay rock right above the sea level, 100m from sandy romantic beaches Nui Beach and Klong Nin Beach, both are suitable for children. Within walking distance (10min) there are two nice resorts Amantra and Sri Lanta where you can find lot of restaurants, bars, shops and internet.) Villa Lanta for 4 people (one extra bed is possible) has 110 m2 and consists of the first floor: living room (LCD TV, DVD, CD player, ventilator) with double bed, kitchen corner (fridge, microwave, kettle, toaster, gas cooker), terrace (outsider shower, parasol set) with an outstanding view of the sea and ground floor: air conditioned bedroom with king size bed and kids corner, bathroom with bath and shover, WC. To the equipment of villa belongs a motorbike. This kind of acommodation together with an unique location can surely satisfy exacting clients. In near future there will be also reception, security service and fresh-water pool in Nui Bay complex. Well-known local restaurant Cook Kai is just 15 min walk such as typical Thai Simple Bar with breathtaking view of Nui Beach. There are also neighbouring resorts Sri Lanta and Amantra with their stylish bars and complete services.
3. Basic information about Thailand:
Geographical facts
Location: South-East Asia
Official name: Thai Kigdom, formerly Siam
Cupital city: Bangkok - 6 600 000 inhabitants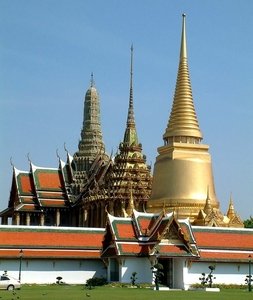 Language: Thai (81%), another 76 languages
Religion: Thevarada Buddhism (94%), Muslims (4%)

Currency, course
Currency: 1 Baht (THB) = 100 satangs
orientation course (May 2010): 1 THB = 0,60 Kč (1 EUR = 41 THB)
Most of standard hotels can exchange you the money but in a worse course. The network of banks and exchange offices is good especially in tourist centres. It is recommended to exchange basic amount at the exchange office at the airport and the rest continuously in local exchange offices. You will get the best course from ATM machines which are possible to find at islands too.

Climatic conditions
Rainy season: May - October
Air humidity: 66 - 80%
cold season: 30°C during day and around 20°C at night
warm season: above 35°C and even at night it does not drop below 25°C
Extreme weather can be in the north Thailand where the temperatures in a cold season can fall to 10°C, on the contrary in a warm season temperatures often reach 40°C.
In a monsoon period it rains couple of hours but the rains are fruitful and the sky is overcast . In Krabi area the monsoon rains are from September to October.
4. Prices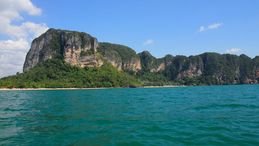 Thai food is cheap
Prices are only for orientation and they can differ from a place and season
Prices in a supermarket (in THB)
Dribling water 1 l: 10-20
Fruit 1 kg according to kind: 10-60
Ice cream: 10-50

Prices in restaurant (v THB)
Main dish: from 60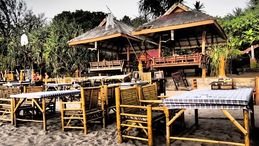 Hamburger, fast food: from 30
Beer 0,5 l: from 35

Beach services
Parasol and deck-chair/day: 200
Water sports: 200
Postcards: 6-10
T-shirt: 100
Polo shirt: 250-300
Summer shoes: from 200
Thai massage in a hotel: from 250/ 1,5 hour
5. Time
GMT + 7 hours

Electric pension is 220 - 230 V.
Plugs with flat poles are used only, adaptors are to get in all shops with electric goods.
6. Kriminality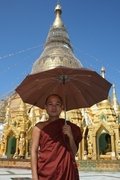 Several recommendations:
Thai is a buddhist country where all things that represents Buddha are sacred. People who commit sacrilege are punished by jail (foreigners included)
The visit of buddhist temples and sites are allowed in appropriate clothing, shorts and mini skirts are not allowed. Before entering the temple you need to take off your shoes and walk in with bare foot. You should never show your feet towards Buddha statue
Women are not allowed to touch or to give to buddhist monks
It is not appropriate to touch Thai people on thein head or thein hair
---
7. Shops and souvenirs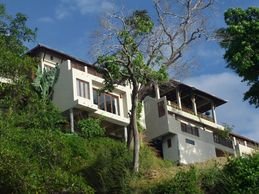 Thai silk, ceramics, basket-work, products from varnished wood
8. Tips
Tipping is common in Thailand. In lot of Berger restaurants they put automatically 10% to your bill.
In this case you can give a tip if you are extraordinary satisfied with the service.
---
9. Interesting places
Bangkok
Bangkok or so called Venice of the East is situated at the river banks of Chao Phraya river just few kilometres above mouth of this river to Thai Bay. It is a seat of royal family and crossing of all important economic, industrial and financial arteries. It is also the most important port of Thailand and the population reperesents above 10% of all Thai people.
Bangkok (Thai: กรุงเทพฯ Krung Thep) is the capital of Thailand and by far its largest city with an estimated population of over 11 million.
Bangkok is one of Asia's most cosmopolitan cities. Created as the Thai capital in 1782 by the first monarch of the present Chakri dynasty, Bangkok is a national treasure house and Thailand's spiritual, cultural, political, commercial, educational and diplomatic centre.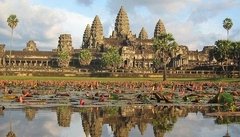 Phuket
Puket is the biggets island in Thailand (550 km2) and the richest provincy at the same time. The island is connected to the main land with a famous bridge "saphán Sarasim". 70% of surface in Phuket is mountainous; west mountains stretches from north to south (Puket is 48 km long). The rest of 30% are lowlands. It is one of the most visited island in area of South-East Asia (more than 1 mil./year). However, this island remains still beautiful destination with azur sea and white sandy beaches. The infrastructure is complet (renewed after tsunami in 2004). There are certainly lot of activities which you can do here. Island has perfekt air connection.
Chiang Mai
Founded in 1296 AD, Chiang Mai is a culturally and historically interesting city, at one time the capital of the ancient Lanna kingdom. Located among the rolling foothills of the Himalayan Mountains 700 km north of Bangkok, it could only be reached by an arduous river journey or an elephant back trip until the 1920s. This isolation helped preserve Chiang Mai's distinctive charm intact to this day.
Inside Chiang Mai's remaining city walls are more than 30 temples dating back to the founding of the principality, in a combination of Burmese, Sri Lankan and Lanna Thai styles, decorated with beautiful wood carvings, Naga staircases, leonine and angelic guardians, gilded umbrellas and pagodas laced with gold filigree. The most famous is Wat Phrathat Doi Suthep, which overlooks the city from a mountainside 13 km away. There is International Airport and Thai Airways or Asia Air operate daily flight to Phuket, Krabi, Bangkok etc.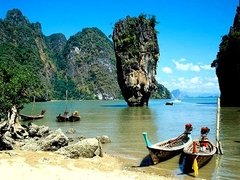 KHAO SOK – NATIONAL PARK
Khao Sok National Park in Southern Thailand is an amazing place. It is covered by the oldest evergreen rainforest in the world, huge limestone mountains shooting straight up in the air, deep valleys, breathtaking lakes, exciting caves, wild animals and much more.
Khao Sok is a fantastic place to go on vacation. Elephant trekking, trekking on foot, canoeing and jeep safaris are all possible activities, which will give you the experience of a lifetime. Khao Sok is perfectly situated on the mainland between Phuket, Krabi, Khao Lak and Koh Samui, the most popular destinations in southern Thailand.
---